An Overview of Michigan Deer Hunting (2009)
What does Deer Hunting represent to Michigan?
In 2008, hunters contributed about 1 billion dollars to Michiganís economy through the sales of licenses, equipment, gas, food, restaurants, and other local purchases. (1) Michiganís Department of Natural Resources annually sells about 1.5 million deer licenses to 690,000 hunters. Michigan hunters harvest approximately 490,000 deer per year. (2) Michigan Deer Hunting is a large event which many consider as a holiday. Deer hunting is vital to Michiganís struggling economy. This is a brief overview of Michigan Deer Hunting.

Michigan Deer Season falls into three hunting categories
Archery Season is October 1 through November 14 (closed for two weeks during Firearm Season). Archery Season resumes December 1 and closes January 1. Archery Season allows a hunter to use a bow and arrow or a crossbow to hunt deer. A crossbow is allowed from October 1-November 14. A crossbow is allowed statewide for hunters over the age of 50, and allowed for hunters age 12 and older in southern Michigan. Hunters Orange is not required. (3)

Firearm Season is November 15-30. There are other dates set aside for youth, disabled veterans, and special anterless only seasons. During firearm season hunters may use a shotgun, certain handguns, a bow and arrow, crossbow, or a muzzleloading firearm. Michigan also has a rifle/shotgun zone. The shotgun zone is the southern section of Michigan. Certain rifles are allowed north of the shotgun zone. Hunters Orange is required. (3)

Muzzleloading Season is in December and the dates change depending on the area being hunted. During muzzleloading season hunters are allowed to use any muzzleloading firearm that uses black power or a black power substitute. A crossbow can also be used during this season. Hunters Orange is required. (3)

Michigan allows baiting in the Upper Peninsula only. Tree Stands are allowed statewide during all seasons. There are 8 million acres of public land available for hunters to make use of. (3)

Michiganís Natural Resources Laws and Regulations continue to change each year. For the most updated information and complete requirements for each season see the Michigan DNR Website.

Michigan's 2010 Hunting Guides/Digests are available in the MI Deer Camp Resource Library.
We are looking for historic/vintage hunting guides. If you have any of these old guides we would like to add them to the Resource Library. Please contact us by clicking here.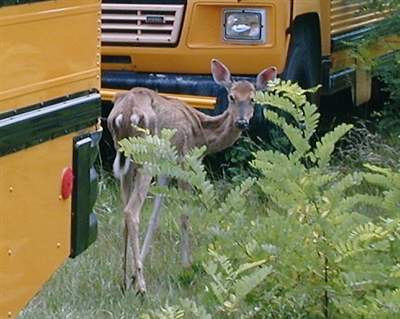 Information on Chronic Wasting Disease in Michigan including the History, What to look for, Photos of Deer With CWD, and Police/Court Documents of James and Brian Schuiteman.
Related articles
Michigan Deer Hunting History
Timeline of Michigan Deer Hunting.
Sources
(1) Economic Impact
(2) Michigan Deer Harvest Survey Report 2008 Seasons (PDF)
(3) 2009 Michigan Hunting and Trapping Guide